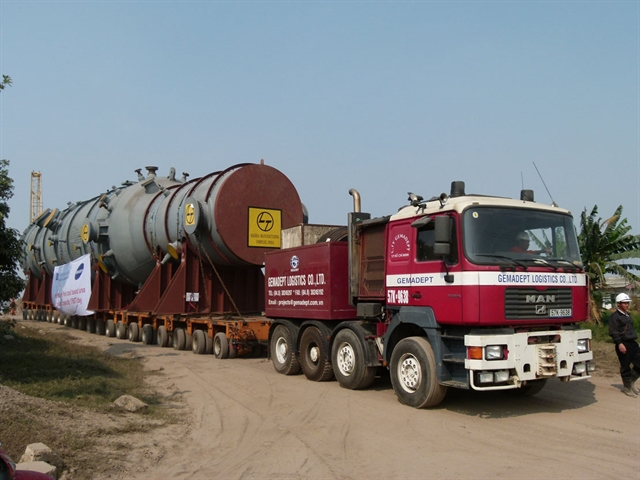 HÀ NỘI — Logistics firm Gemadept Corporation (Gemadept) plans to earn revenue of VND3.92 trillion, up 3 per cent compared to 2022 and profit before tax of VND1.14 trillion, up 14 per cent.
The information was released last week at the Annual General Meeting of Shareholders held in HCM City.
Gemadept said that it will continue to implement key projects in 2023 to expand its scale and create a premise for long-term growth plans for 2021-25. Under the plans, Gemalink deep-water port project - Phase 2 is expected to be put into construction in 2023 and complete phase 2.1 in 2025 and phase 2.2 in 2027. The project will have a scale of 39ha, and a capacity of 1.5 million TEU per year, accommodating ship size 250,000 DWT.
Nam Đình Vũ port project - Phase 3 will have an area of more than 25ha; capacity of 600,000 TEU per year (for container cargo) and 3 million tons per year (for general cargo); accommodating ship size 48,000 DWT; and is expected to be put into construction in the fourth quarter of 2023, put into operation from the end of 2025.
Gemadept also plans to continue divesting from real estate projects and afforestation projects in Cambodia to transfer ownership to potential partners, thereby ensuring the focus of resources and cash flow for projects in its core business.
Gemadept's afforestation project in Cambodia covers an area of nearly 30,000ha.
Cash dividend 20% in 2022
The company approved the 2022 cash dividend plan at the rate of 20 per cent and authorised the Board of Directors to implement the payment.
Gemadept announced it had temporarily suspended the plan to offer shares to existing shareholders approved on April 25, 2022. The reason given by the company was that the market conditions were not favourable for the continuation of the issuance plan.
On May 24, 2023, Gemadept held the opening ceremony of phase 2 of Nam Đình Vũ port cluster. The total area of ​​the port cluster is 65ha, the total design capacity is two million TEU per year. Owning 7 berths with a length of 1.5 km and a capacity to accommodate container ships of up to 48,000 DWT, when completed, Nam Đình VŨ port cluster will be the largest river port in the Northern region.
Source: https://vietnamnews.vn/economy/1549695/logistics-firm-gemadept-sees-both-revenue-and-profit-up-in-2023.html